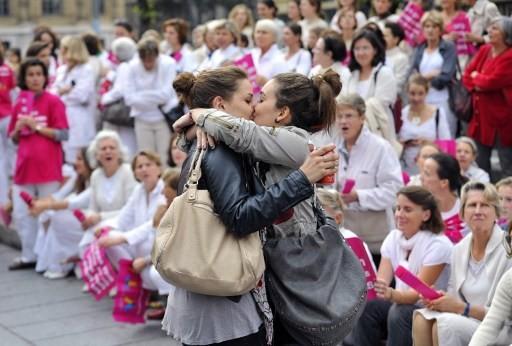 Two Women Kiss In Front Of Anti-Gay Protests In Marseille, France
I talked with a friend of mine,
Koneko
, about homosexuals and their struggle for acceptance. I support gays and lesbians, bisexuals, transgender and all the others absolutely, don't get me wrong. But to be honest, I'm sick of this. I can't understand how it is still necessary in
2014
to fight for their rights. It's like people haven't matured at all over all those years. Why do we always have to prove the people wrong? Why can't we just open their eyes? We are all the same people. And there are no others! We have to live with what we got. So why don't we try to live in harmony and peace? Our history is full of struggeling for a cause. We are arguing about race, sex and religion for all eternities now. We fought for freedom and equality. We are even willing to kill and be killed to stand our ground and follow our beliefs. But the bloodshed is enough: We came to realise that the colour of your skin doesn't matter, we established women's rights and we even put the freedom of religion and worship down in our constitution. So can we please come to our senses! When will we reach that final stage? When will we finally see:
We. Are. One.
We are all human. We just have different preferences. Some of us like fish, some others don't. You like blue, I like green better. That doesn't mean blue is ugly or wrong. Just different.
Diversity is a good thing! Embrace it!
Stop following the path of hate and show Love and Compassion. Don't look for differences, look for the similarities:
We all want to love and be loved, we all struggle to reach that goal, we all fall down every now and then and we all get up and try again.
We are all the same. We are one.
Schon allein das Verfassens dieses Posts ist mir eigentlich sowas von zu wider. Es sollte eigentlich gar nicht nötig sein, immer wieder aufs Neue seine Sympathie, seine Toleranz und seine Akzeptanz zu Homosexuellen ausdrücken zu müssen. Wann werden es die Menschen endlich begreifen: Homosexuelle, Asexuelle, Bisexuelle, Transexuelle etc. sind wie jeder andere auch, sie haben nur andere Präferenzen. So wie beispielsweise der eine kein Fleisch isst oder ein anderer einfach die Farbe blau am liebsten mag. Kleinigkeiten, die an seinem Charakter, an seinem Lachen, an seinem Wesen im Grunde nichts ändern.
Sie sind genau wie wir.
Sie lieben und leben, Sie machen Fehler, Sie werden verletzt, Sie rappeln sich wieder auf und versuchen es weiter.
Seht ihr denn nicht?
Wir sind Eins.
In unserer heutigen Gesellschaft sollte es einfach klar sein, dass jeder Mensch gleich ist. Wir hatten schon mehrere Phasen in der Geschichte, in der für Freiheit und Gleichheit gekämpft wurde. Und jedes Mal artete es in einem blutigen Kampf aus, in dem Menschen ihr Leben für ihre Überzeugungen lassen mussten. Erst nach einem solchen Blutbad wird meist eingesehen, dass wir gleichwertig sind. Egal ob Menschen verschiedener Hautfarbe, unterschiedlicher Religionen oder auch des anderen Geschlechts.
Das einzige Problem ist, dass wir einfach nicht aus der Geschichte lernen. Oder nicht lernen wollen. Weil wir uns immer noch vor dem fürchten, was uns unbekannt ist. Deswegen müssen wir uns immer wieder aufs Neue verteidigen, uns rechtfertigen, für uns einstehen und klar machen, dass wir zwar anders sind, aber dass das GUT so ist.
Also können wir uns für ein einziges Mal diesen Kampf sparen?
Können wir einmal, nur ein einziges verdammtes Mal, einsehen, dass es keine Unterschiede sind, die uns zu Feinden machen müssen? Können wir uns bitte darauf einigen, dass wir in Frieden und Harmonie nebeneinander leben können?